DaBaby Live: Celebrate Independence Day at Oxford Social Club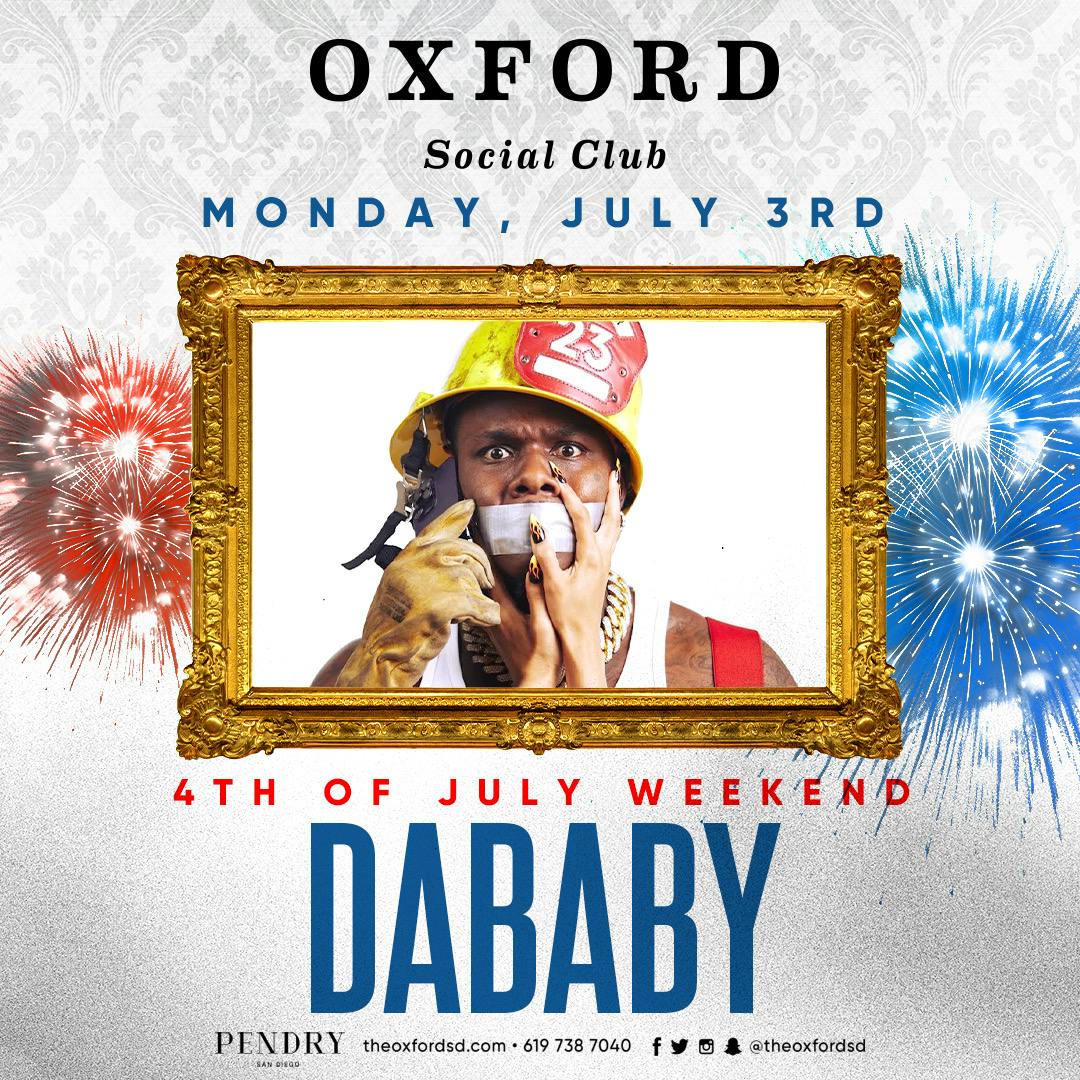 Get ready to kick off your Independence Day celebration in style at Oxford Social Club, the premier nightlife destination in San Diego's Gaslamp District. We are thrilled to announce a special live performance by the multi-platinum rapper DaBaby on Monday, July 3rd. This exclusive event promises to be an explosive celebration of music, energy, and patriotic fervor. Join us as we dive into the details of this highly anticipated Independence Day concert and why it's an experience you won't want to miss.
The Hottest Independence Day Celebration in San Diego
Oxford Social Club is proud to present the hottest Independence Day celebration in San Diego. As one of the city's premier nightclubs, we are known for curating unforgettable experiences, and this event is no exception. DaBaby, the chart-topping rapper known for his energetic performances and infectious hits, will take the stage to deliver an electrifying show that will have the crowd on their feet all night long. Prepare to celebrate America's freedom with a night of music, dancing, and excitement.
DaBaby: A Chart-Topping Sensation
DaBaby has taken the music industry by storm with his unique style, captivating stage presence, and chart-topping hits. With multiple platinum records and collaborations with renowned artists, he has established himself as one of the most influential voices in hip-hop. At Oxford Social Club, you'll have the opportunity to witness DaBaby's raw talent up close and personal, as he delivers an unforgettable performance that will leave you wanting more.
Immerse Yourself in the San Diego Nightlife Scene
Located in the heart of the Gaslamp District, Oxford Social Club is the epicenter of San Diego's vibrant nightlife. This iconic venue sets the stage for an incredible evening of music, dancing, and celebration. With its state-of-the-art sound system, dynamic lighting, and trendy ambiance, our club offers the perfect backdrop for DaBaby's explosive performance. Immerse yourself in the energy of the San Diego nightlife scene and experience a night you'll remember for years to come.
Secure Your Tickets and Create Lasting Memories
Don't miss your chance to be a part of this sensational Independence Day celebration. Tickets for DaBaby's live performance at Oxford Social Club are now available for purchase. By securing your spot, you guarantee yourself an unforgettable night filled with incredible music, an electric atmosphere, and memories that will last a lifetime. Gather your friends, grab your tickets, and get ready to experience the best that San Diego's nightlife has to offer.
Conclusion
Join us at Oxford Social Club in San Diego's Gaslamp District for an explosive Independence Day celebration featuring a live performance by DaBaby. Immerse yourself in the vibrant San Diego nightlife scene, groove to DaBaby's chart-topping hits, and create lasting memories with friends and fellow music enthusiasts. Secure your tickets today and get ready for a night of non-stop excitement, music, and patriotic revelry.