Comic Con Weekend 2023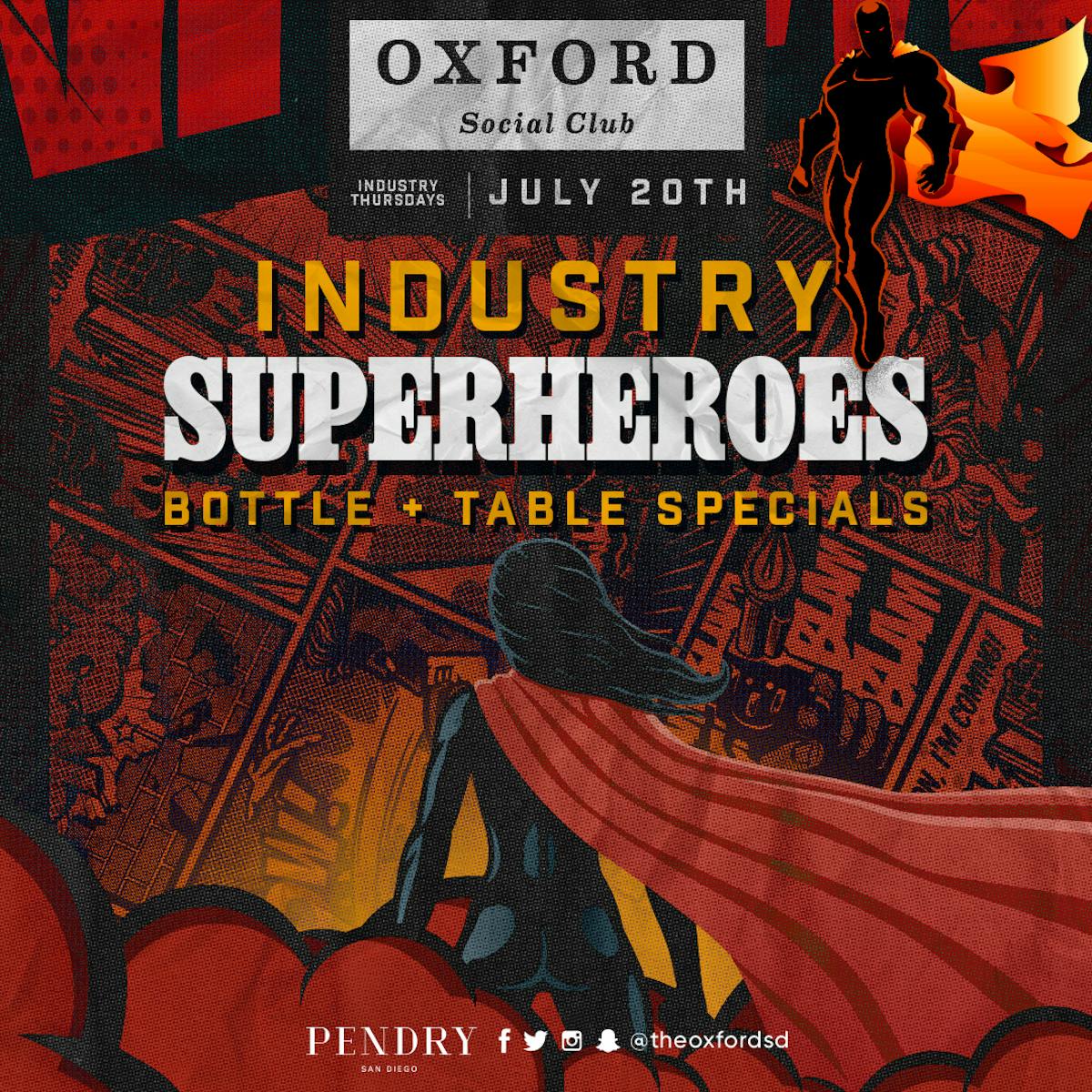 Celebrate Comic-Con Weekend in the Heart of San Diego
Experience an extraordinary night of entertainment, creativity, and superhero magic at Oxford Social Club, the premier San Diego nightclub located in the vibrant Gaslamp Quarter. We are thrilled to invite you to our highly anticipated "Industry Super Heroes" event, taking place this Thursday, July 20th. Join us as we celebrate Comic-Con weekend in San Diego, bringing together fans and enthusiasts for a memorable night of fun and excitement.
Comic-Con: The Ultimate Pop Culture Convention
Comic-Con International is the ultimate gathering for pop culture enthusiasts. Held annually in San Diego, it showcases the best of comic books, movies, TV shows, gaming, and more. Attendees from around the world converge on the city to celebrate their love for superheroes, science fiction, fantasy, and everything in between.
Comic-Con offers a unique opportunity to meet favorite artists, actors, and writers, attend exclusive panels and screenings, and immerse oneself in a world of creativity. It's a place where dreams come true, and where the passion for all things geeky is celebrated.
Enter Oxford Social Club, Your Superhero Oasis
Located in the heart of San Diego's vibrant Gaslamp Quarter, Oxford Social Club is the ultimate destination for nightlife enthusiasts. Our elegant and sophisticated venue is known for exceptional service, a trendy atmosphere, and unforgettable experiences.
Embracing the spirit of Comic-Con, Oxford Social Club invites guests with a valid Comic-Con pass to enjoy complimentary entry to our exclusive "Industry Super Heroes" event. We value the dedication and passion of Comic-Con attendees and want to offer them an evening of entertainment and camaraderie.
Embrace Your Superpowers Through Cosplay
Cosplay is an integral part of the Comic-Con experience, and at Oxford Social Club, we encourage guests to unleash their creativity and dress as their favorite superheroes or supervillains. Comic-Con attendees are welcome to wear their cosplay outfits to the "Industry Super Heroes" event, adding a touch of excitement and imagination to the night. Showcasing your cosplay is not only encouraged but celebrated at Oxford Social Club.
Our venue will be filled with like-minded individuals who share your love for all things geeky. It's the perfect opportunity to mingle, dance, and connect with fellow fans, creating lasting memories and friendships along the way. The night promises thrilling surprises, interactive activities, and a special ambiance that captures the spirit of Comic-Con.
Experience the Best of San Diego Nightlife
Beyond the excitement of Comic-Con, San Diego's Gaslamp Quarter offers a thriving nightlife scene that caters to all tastes. As one of the city's most renowned nightclubs, Oxford Social Club combines a trendy ambiance with exceptional service, ensuring an unforgettable experience for all our guests.
Don't miss the opportunity to explore the Gaslamp Quarter and discover the vibrant energy that permeates the streets. From top-notch restaurants to trendy bars and live entertainment venues, this area is a must-visit for those seeking an unforgettable San Diego experience.
Remember, admission is complimentary for Comic-Con guests with a valid pass. So gather your friends, put on your capes, and join us at Oxford Social Club this Thursday, July 20th, for a night you won't want to miss!