Babes & Barbs: A Glamorous Barbie-Themed Night at Oxford Social Club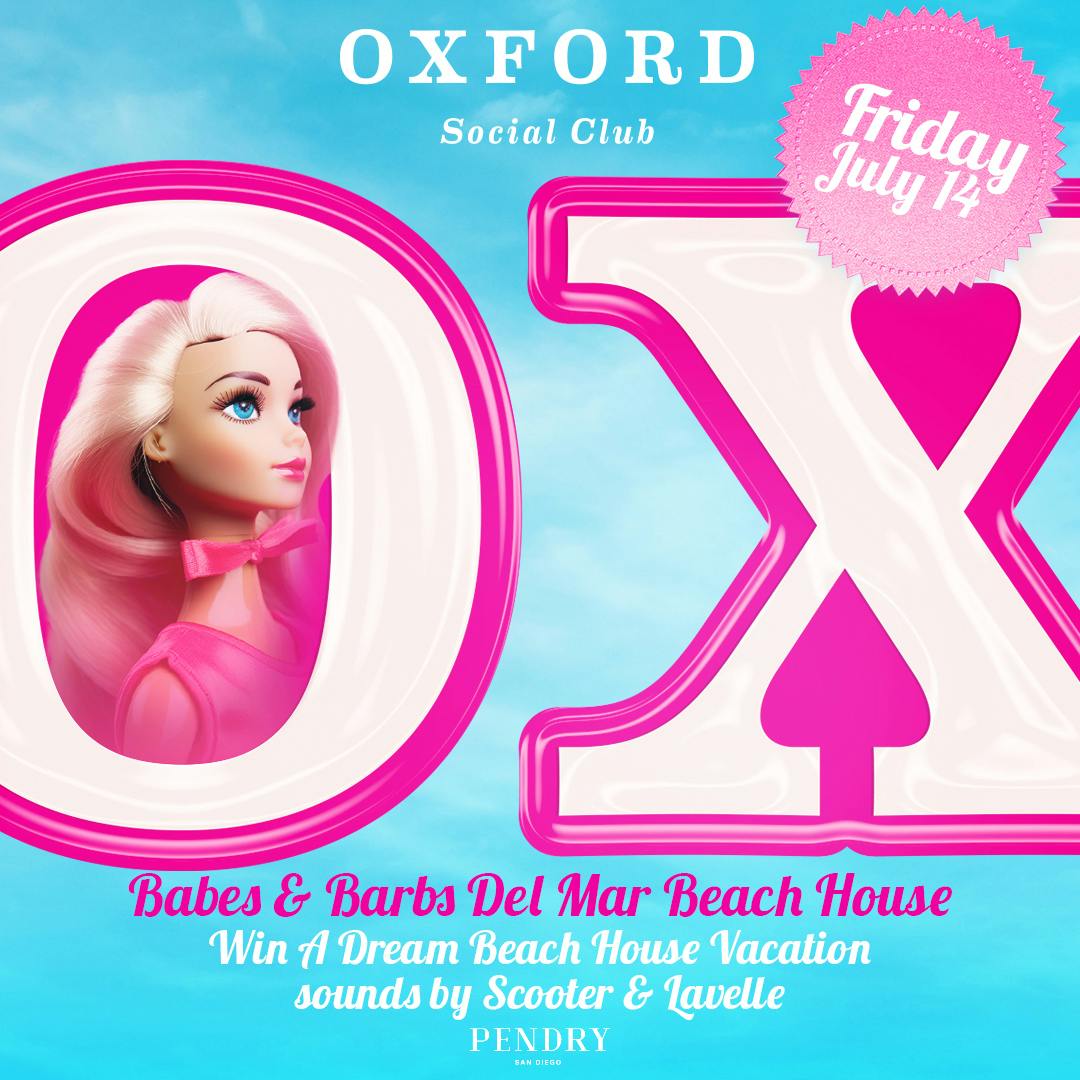 Welcome to Oxford Social Club, San Diego's premier destination for nightlife and entertainment. Get ready for an unforgettable night as we invite you to our much-anticipated event, "Babes & Barbs," taking place this Friday, July 14th. Get ready to channel your inner Barbie and indulge in a night filled with glamour, excitement, and the chance to win a dream house vacation. Prepare to be dazzled at the heart of the Gaslamp Quarter as we transform our club into a Barbie wonderland.
Dress to Impress in Your Best Barbie Attire
This Barbie-themed event is all about style and sophistication. We encourage all guests to unleash their creativity and don their most fabulous Barbie-inspired outfits. Whether you want to channel classic Barbie's iconic pink gown or explore the diverse Barbie fashion universe, this is your chance to showcase your unique style. The best-dressed Barbie and Ken will have the opportunity to win a dream house vacation, so let your imagination run wild and get ready to turn heads!
Experience San Diego's Electric Nightlife in the Gaslamp Quarter
Oxford Social Club is located in the heart of the Gaslamp Quarter, San Diego's thriving nightlife district. Immerse yourself in the energy of this lively area known for its vibrant bars, clubs, and restaurants. As you step into Oxford Social Club, you'll be transported to a world of sophistication and luxury, making it the perfect setting for an event like "Babes & Barbs." Join us and experience the electric atmosphere that only the Gaslamp Quarter can offer.
Unforgettable Moments Await You
Barbie-Inspired Cocktails: Indulge in a selection of signature cocktails specially crafted to capture the essence of Barbie.

DJ Lineup: Our renowned DJs will keep the dance floor alive with a mix of top hits, ensuring an electric atmosphere throughout the night. Get ready to dance the night away surrounded by like-minded partygoers.

Dream House Vacation Giveaway: Enter the Barbie-inspired costume contest for your chance to win a dream house vacation. Show off your impeccable style, strike a pose, and impress our judges to take home this extraordinary prize.
Get Your Tickets Now!
Don't miss out on this sensational night of glamour and excitement. Secure your spot at "Babes & Barbs" by purchasing your tickets in advance through our website. Early booking is highly recommended as this event is expected to be in high demand. Visit www.theoxfordsd.com/events/babes-barbs to reserve your spot and start planning your Barbie-inspired ensemble today.
Get ready for a night of glamour, style, and unforgettable memories at Oxford Social Club's "Babes & Barbs" event this Friday, July 14th. Embrace the Barbie theme, dress to impress, and dance the night away at San Diego's premier nightclub in the lively Gaslamp Quarter. Don't miss your chance to win a dream house vacation and immerse yourself in a night of enchantment. Join us at Oxford Social Club for an extraordinary evening that will leave you with memories to cherish for a lifetime.